ORDINARY PEOPLE. EXTRAORDINARY STORIES
About the Show:
Every Sunday morning @ 7 -8 am , join Silva Harapetian and her special guests sharing their stories.
She is  committed to helping entrepreneurs amplify their impact in the world. She teach people how to use their voice to broadcast their story, live a purposeful life and become a powerful influence in business.
Premiering Sundays,  7-8 am PT. Tune in online at socalpersian.com.
Repeat of the show , Mondays  9-10 pm PT.Tune in online at Socalarmenian.com
Program will be in  English.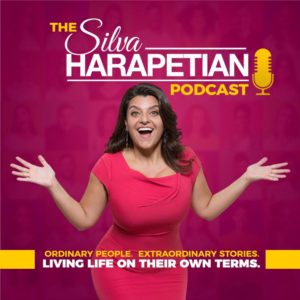 About the Host/Journalist, Silva Harapetian
Silva Harapetian is an Emmy nominated journalist, award winning producer and Amazon Best Selling Author. She has spent 22-years in front of the camera and behind the scenes in the TV industry.
Born in in Iran, a Christian-Armenian, she witnessed a revolution, lived through a devastating war and escaped terrifying political and religious persecution. Against all odds, Silva paved a path to stardom as one of the very first Armenian- Iranian-Americans in the broadcast news industry. Silva has worked as an award- winning journalist for CBS, ABC and NBC and FOX affiliates across the country. She is a television personality and speaker who has also been featured in online and print magazines as well as television and radio shows, globally including NBC's "The Today Show" with Kathie Lee & Hoda and syndicated talk show, "The Nate Berkus Show." Silva founded the Silva Media Group, a production company committed to producing content for minority and socially conscious entrepreneurs.
OWNER, SPEAKER – Silva Harapetian FOUNDER – Silva Media Group FOUNDER – Media Mastery Institute CEO – Epic Storytelling Academy AUTHOR – Tell Your EPIC Story AUTHOR – Highway to a New You
MIAMI, FL – WFOR-TV (CBS) DETROIT, MI – WDIV-TV (NBC) AUSTIN, TX – KXAN-TV (NBC) LAWTON, OK – KSWO-TV (ABC) BAKRSFIELD, CA – KGET-TV (NBC) FRESNO, CA – KMPH-TV (FOX)