Part(1)
Friday November 27, 2020
Join Anush Gharibyan O'Conor
 Her Special guest Ara Ekmekdjian – Owner of Take Home Chef, Chef Consultant at Foodtastic and Executive Chef at Gatto Matto.
Born and raised in Montreal Canada. Ara Ekmekdjian is a chef who has been working in the industry for 15 years. This Multifaeted chef initially trained in art of classic French cuisine under Richard Bastein at Memeac. He theturned his attention to sharpening his Italianculinary skills at Bice. His desire to master his craft later drove him to join the creative team at Le ChinaFumant, where he worked tirelessly to attain the rankof chef de cuisine. He is now focusing on traditional Armenian dishes with a modern twist.
Ara  founded catering company in 2014 called Take Home Chef where he takes over your kitchen and creates tasting menus according to the customers likes and dislikes.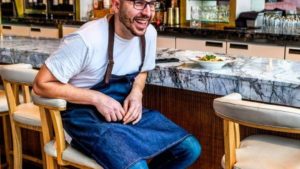 Wine and Dine In LA With Anush
All Podcasts