10.12.2020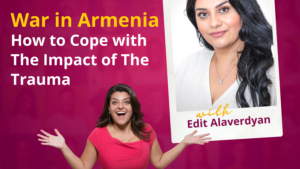 Part 1
The War in Armenia and How to Cope With The Impact of the Trauma
Episode 9 – The War in Armenia and How to Cope With The Impact of theTrama
There is a war brewing on the sliver of land between Armenia and Azerbaijan. It may not be in a region familiar to most. It may not even involve people you care about or know much about. But, what's happening is not only a humanitarian matter, it also has global political & historical implications that impact you and me, today and forever.
Crimes against humanity transcend borders and nationalities and represent how systemic injustice can be perpetuated even in your country, city, or neighborhood.
This is why a tribe of seemingly  unimportant people who are fighting a war half a world away matter. This fight represents the fight you and I share – the fight for freedom, equality and peace.
Silva Harapetian unpacks the current situation, offers some historical context to the issue and speaks to Associate Psychotherapist Edit Alaverdyan about the impact of the war, the Armenian diaspora, how to cope with intergenerational trauma, and what we say to our children.
ORDINARY PEOPLE. EXTRAORDINARY STORIES
All Podcasts