Monday November 30, 2020
Episode 12 – How a Digital Marketer makes $15 Million Traveling the World.
At a time when unemployment numbers are soaring, one man is busier than ever. Agoro credits his success to life lessons he learned early on as an entrepreneur.
Silva Harapetian talks to Jubril Agoro about how he went from being homeless to building a 15 million dollar digital marketing empire.
What every person should know about the opportunities available and how to leverage them in these challenging times.  Sent from my iPhone
Part (2)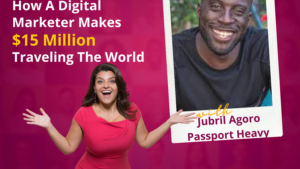 ORDINARY PEOPLE. EXTRAORDINARY STORIES
All Podcasts