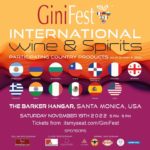 International GiniFest®

 

November 19th, 2022

Tickets @ $100 5 pm till 9 pm  

VIP Tickets @ $125 4 pm till 9 pm 

Over 1000 Self Parking Spaces are available
$20 CASH ONLY at the gate
Guaranteed 1100 Parking Spaces
International GiniFest®–Wine and Spirits Festival will take place in Santa Monica's Banker Hangar on November 19, 2022 4:00pm – 9:00pm.
GiniFest® (pronounced Ghi-ni meaning "wine" in Armenian) was established in 2018 to bring the spotlight and introduce Armenian wine to the Southern California community. The festival has seen tremendous growth. In our first year, we had about 300 attendees, and this number has grown to 1300 in 2022. It has become one of the most anticipated events of the year in Los Angeles, bringing in people from all over the world.
International GiniFest® was created with the goal to bring the spotlight to all wine regions. The aim of this event is to introduce wines and spirits from ancient, undiscovered, newly emerging, and unique regions to all wine lovers and to celebrate the diversity of wine cultures with the international community. The festival will have a section called "World Folk Market" a space to showcase arts and crafts from around the world. The Barker Hangar is a perfect venue for that, as it plays host to some of the most exclusive events in Southern California.
#armenian

#Wine

#Persian_radio