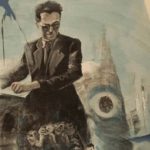 THE GREAT IRANIAN THINKER, SADEGH HEDAYAT
Among the contemporary Iranian writers and philosophers, very few have reached the depth of Sadegh Hedayat's literary works, given his short life.
Although born in an aristocratic family, for bulk of his life he detached himself from monarchical circle and affiliated with progressive intellectuals who to a great extent shared similar perspective and philosophical tendencies.
His world views mostly were influenced by European existentialism championed by Kafka, Chekhov, and to some extent Sartre.
However, Hedayat incorporated Iranian society's idiosyncrasies into his writings, questioning the value of existence in a progressively alienated environment based on social status and repression of minds.
He well reflected such social imbalances in all his books, in particular in "Buried Alive" (زنده به گوران), "Three Drops of Blood" (سه قطره خون ) and his masterpiece "The Blind Owl (بوف کور )".

His suicide in 1951 at the age of 48 seemed to be his way of bowing out to questioning his own existence.
(painting by Mohammad Ali Sajjadi)
Credit to Mr. Mike Kazemi