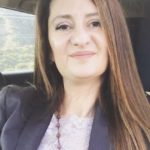 The show is hosted by professional wine consultant Anush Gharibyan O'Connor, who holds a Bachelors Degree in Wine Making and an
MBA in Marketing Management. She has extensive experience in wine production, sales and distribution, retail, education, events, and podcasting. She has worked in various areas of the wine industry, serving in roles such as marketing manager for a winery in Texas and Wine Consultant for Flow Wine Group. Currently, she is the executive director of the Armenian Wines and Spirits Festival in Los Angeles.
Wine And Dine In LA is hosted on Thursdays at 9 pm on SoCalArmenian.com and 95.5HD3. The show offers insight into the world of food and wine in a fun and entertaining light while also highlighting events in Los Angeles centering around food and wine.
During the first segment of the show, listeners hear hot topics on wine and food, including interesting finds and more. The second portion of the show features an interview with a guest who shares their own interesting food and wine experiences.