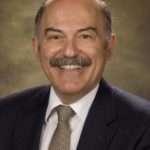 SoCalArmenian.com and KLOS-FM 95.5HD3 have announced the debut of their latest show, 'All Things Armenian'. The show highlights Armenian culture and gives listeners a look at Armenian history, language, and art with interviews with local Armenians who've made an impact on the community, including politicians, scholars, authors, and musicians.
'All Things Armenian' is hosted by Armenian culture and history expert Prof. Barlow Der Mugrdechian, who has taught courses in culture, art, language, and more over the past three decades. Since August 2008, Der Mugrdechian has been the Berberian Coordinator of the Armenian Studies Program and Director of the Center for Armenian Studies at Fresno State.
He is the co-editor of 'Western Armenian in the 21st Century: Challenges and New Approaches', which is the seventh book in the Armenian Series at Fresno State. Der Mugrdechian was also named "Man of the Year" by the Knights and Daughters of Vartan in March 2019 in recognition of his contributions to the preservation of Armenian culture.